About MAMEC
MAMEC is an association that brings together municipal emergency coordinators from communities across Manitoba. Our objectives are to share training, education, and best practices of being a Municipal Emergency Coordinator, and to build strength, community and succession planning.
The MEC Training Program
Developed by a team of experienced emergency management practitioners and based on international best practices, these courses are tailored to meet specific requirements for the role of the Municipal Emergency Coordinator, as set out by Provincial legislation.
Download our brochure for a more comprehensive look at the program:
Module 6: Volunteers; how to find them, how to train them, how to keep them
"The Town of Altona has been members of MAMEC since April of 2022, since that time we have utilized their equipment trailer during our Spring Flood and taken advantage of their training and conference. As the MEC I have attended 3 courses to date and look forward to attending on going training and future conferences. Shelley and her staff are professional, helpful, and well versed in Disaster Management."
–Perry Batchelor – MEC Town of Altona
Thank you for another successful conference!
Thank you to all who spoke, managed, and attended the 2023 MAMEC Conference! In June of 2023, we brought together knowledgeable experts to provide thought-provoking, interesting, and engaging presentations on all facets of Emergency Management. We hope to see you all next year!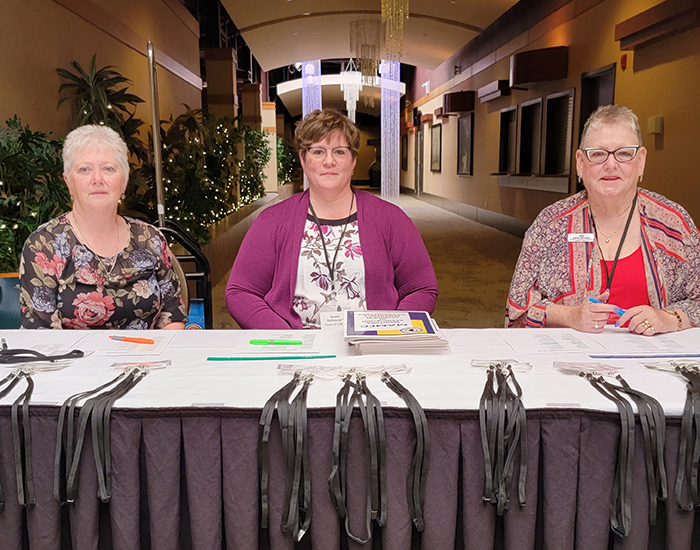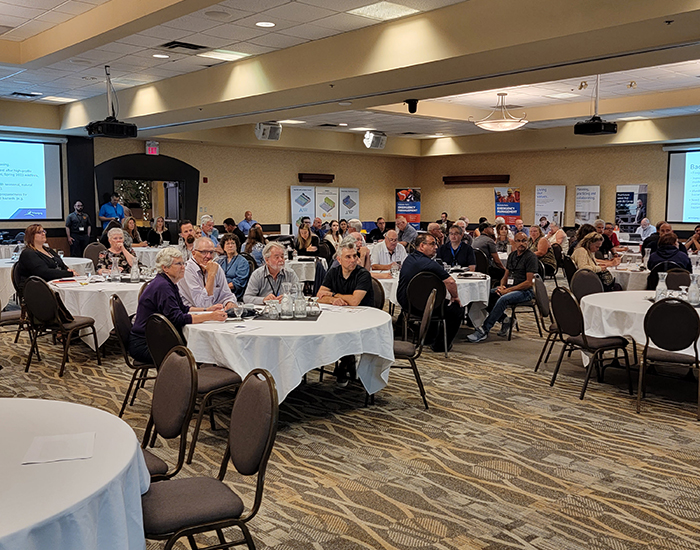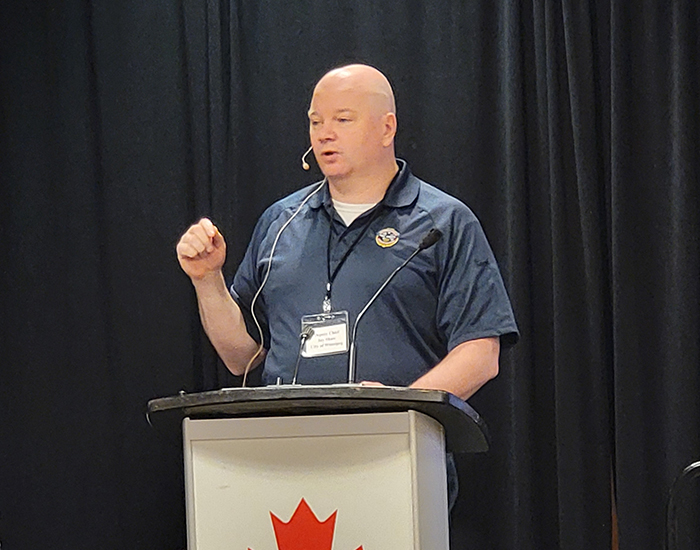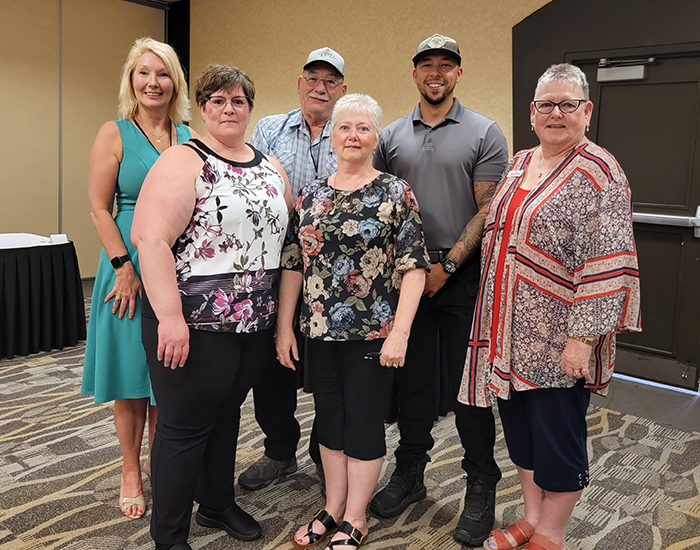 Thank you TC Energy!
TC Energy (formerly TransCanada) has provided an $80,000 donation to the Manitoba Association of Municipal Emergency Coordinators (MAMEC) to provide dedicated equipment for emergency responses.
​"We are pleased to provide funding to help the municipal emergency coordinators with gear essential to emergency response," said Steve Loney of TC Energy. "MAMEC will acquire the equipment and it will be stored at the Village of St. Pierre Jolys' municipal yard, Mayor Raymond Maynard and his council generously offered secured space for the equipment."
​"This new initiative will aid communities who are members of MAMEC to utilize this equipment in times of emergency," said Don Emes, President of MAMEC. "We thank TC Energy for their generous donation in helping us help people in our municipalities in times of trouble."
–Perry Batchelor – MEC Town of Altona
The TC Energy donation will be used to buy new equipment such as:
• Large capacity water pumps, electric generators, light towers, VHF radios, a cell phone booster, tents that will serve as a command post or pet evacuation centres and two trailers to store the equipment; and
• The funds will also cover the cost of a Herman Nelson heater with capacity to heat a large area such as a reception centre, complete with tables, chairs, kennels, emergency operation centre leadership kits, cots for a reception centre and toy boxes to entertain children.
• TC Energy has also donated a truck outfitted with loudspeaker, toolboxes and lights that can be used to haul the trailers.
The donation was made through TC Energy's Build Strong program, which provides valuable tools and resources to first responders, helps fund educational programs, supports important community needs and strengthens environmental stewardship in the communities where the company lives and works. Visit tcenergy.com/build strong to learn more!
Severe Weather Plan for MAMEC Members
Enbridge grant will enhance communities' emergency readiness.
November 2 , 2020 – Just over one year ago, a Thanksgiving weekend ice storm struck southern Manitoba, felling trees, knocking out power and earning a place on Environment Canada's list of worst weather events of 2019. It was also notable as the longest power failure in Manitoba's history — some areas of the province were without service for 18 days. In August of this year, a tornado struck 16 kilometres south of Virden, killing a young couple from Melita, seriously injuring a third person and leaving a swath of destruction in its path.
Such a plan has now been developed and is available to MAMEC members in Manitoba thanks to a generous Enbridge Safe Community First Responder Program grant. This follows a similar Enbridge contribution to MAMEC in May of this year, which led to development of a Pandemic Response Plan.
"This initiative arose from discussions within Enbridge about how we could support communities in the wake of tragedies like the tornado near Virden," says Ryan Champney, Director Prairie Region Operations. "We wanted to find a way to equip municipalities to be better prepared to respond to future severe weather events and this plan is a powerful tool toward achieving that objective."
"Our organization is small, with a limited budget," says Emes. "We are able to offer needed documents like the COVID-19 plan and this severe weather emergency plan because of Enbridge," says Emes.
​"Weather events such as these impact the lives and safety of all Manitobans and they seem to be increasing in frequency and severity," says Don Emes, President of the Manitoba Association of Municipal Emergency Coordinators (MAMEC). "It's become apparent to our organization that communities need to have access to a severe weather plan that tells them what to do, how to manage the event, and how to recover from these events."
–Don Emes, President of the Manitoba Association of Municipal Emergency Coordinators
The plan was developed by Napier Emergency Consulting and takes the form of a template that can be customized by a community according to their needs and geographic location. It contains information on preparedness, a communication protocol to residents and vulnerable populations when an event happens, checklists to work from to ensure an emergency program is activated, and tips on what to do to return the community to safety.
"The plan can be used to address events like tornadoes, ice storms, winter storms and summer heat waves," says Emes. "It will greatly enhance the level of preparedness and bolster the emergency management toolbox for MAMEC  member communities."
Explore the benefits of becoming a MAMEC Member
In addition to what's listed above, membership offers many benefits, and growing our organization is fundamental in making the role of the Municipal Emergency Coordinator better recognized.